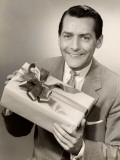 OK, here is where you get to reap the rewards of being one of my early (faithful) readers - yay! I have here in my hot little hand a Code that will net one lucky Brenda Writes A Blog winner a FREE pair of glasses from CoastalContacts.com. Note that this code is valid for first time eyeglass customers only - so if you've ordered glasses from CoastalContacts before then it won't work for you (but you could pass it on to a friend).
"So Brenda, how do I enter to win?" I'm so glad you asked! It's easy - just leave me a comment below telling me what you like the most about BrendaWritesABlog.com. Is it the daily deals, the recipes, the gift ideas, my (not so) witty writing? I'd like your input on what draws you to the site, and what keeps ya comin' back.
That's it. Easy, right? I look forward to your comments. I will review all the comments, and then randomly choose one reader on Sunday, September 11th. I will announce the winner on the blog and give you a way to contact me for the code. Good luck!